Mackintosh of Dunkeld

History of the the so-styled"House of Dunkeld" of Scotland.
The monarch of Scotland was the head of state of the Kingdom of Scotland. According to tradition, the first King of Scots was Kenneth MacAlpin, who founded the state in 843, although this is no longer taken seriously by historians....
It is dynastically sort of a continuation to Cenél n Gabráin, "race of Fergus", as "house" an originally Celtic concept to express one of the two rivalling leader clans of early medieval Scotland, whose founding father is king Fergus Mor of Dalriada. This Ferguside royal clan had rivalled the crown (of Dalriada, then that of Alba) against the Cenél Loairn, the later House of Moray for the preceding four or more centuries. The Cenél nGabráin were represented by the so-called House of Alpin before Dunkeld.
Genealogically the Dunkeld dynasty is based on Duncan I of Scotland being of a different agnatic clan (Irish Cenel Chonaill Uí Néill via Iona) to his predecessor and maternal grandfather Malcolm II of Scotland
Malcolm II , also known as Duncan MacDuff, was King of the Scots from 1005 until his death. He was a son of Kenneth II of Scotland ; the Prophecy of Berchin says that his mother was a woman of Leinster and refers to him as Mael Coluim Forranach, "the destroyer".
Malcolm III, who was in later centuries nicknamed Malcolm Canmore, or "Big Head" or Long-neck, was King of Scots, which happens to coincide with the start of the centuries-long period of strong influence from the southern neighbor, the Kingdom of England. Through Malcolm's sons descend the first Earl's of MacDuff and through them the line of the Chiefs of Clan Mackintosh of Mackintosh, who were the Captains of Clan Chattan. Later descendants include the Mackintosh's of Daviot, the Farquharsons, the Shaws and MacThomas's of Rothiemurchus and in the 17th-19th century those of whom I have styled McIntosh alias Mackintosh of Dunkeld.
During the time of the so-called House of Dunkeld, succession to the Scottish throne evolved towards Primogeniture instead of the Irish-Celtic tradition of Tanistry and the Pictish traditions, were they matrilineal or not. Although the contemporaries did not have a common name for these monarchs, they were a family who formed a hereditary kingship.
Distinctive characteristics of the developments of society during this dynasty:
Scotland, was more influenced by outlanders than it had been earlier, or was to be under the kings of the House of Bruce and House of Stuart. The kingdom was between two established powers: the Kingdoms of England and Norway. Quite a many Scottish king was to do homage to the English monarch, and on the other hand, Vikings controlled the Hebrides, Caithness, the Isle of Man and the Orkney Islands. The common goal uniting the usual policies of kings of this dynasty was to balance between the two neighbours, sometimes allying, to have some outside support, with France in the Middle Ages. Many Norman lords and institutions were brought to Scotland, especially after the Norman conquest of England; by the end of the period, both had been in Scotland for centuries. The tribal polity evolved to a medieval feudal society, adopting legal traditions from Rome.
The so-called Dunkeld dynasty rose to rule in a time when the kingdom was fragmentary, under increasing outside threats, and some monarchs started to initiate more centralized government.
The Dunkelds came to power after two centuries of civil unrest under the House of Alpin. The first king of this new dynasty was Malcolm III of Scotland, of whom some say received pressure from his second wife Margaret to bring Scotland more in line with the other Catholic Monarchies, and who determined that succession would be to the eldest son, not according to the rules of Tanistry. This political decision reduced the conflicts inside the Royal family.
In Malcolm's own time and in latter generations the Dunkelds consolidated Scotland's' union and independence as a kingdom, despite several skirmishes with the neighbouring England. The fall of the House of Dunkeld began in 1286, when Alexander III of Scotland died in a horse riding accident. The king had no living sons, only one three year-old granddaughter, Margaret, princess of Norway. Fearing the influence of king Eric II of Norway, her father, and another endless civil war, the Scottish nobles appealed to Edward I of England. Margaret was betrothed to the future Edward II of England, but died shortly afterwards on her arrival to Scotland.
The dynasty ended at a time when immigrant-originated feudal families had reached material level almost as high as the kings and the beneficiaries of the feudal system desired to better guarantee their positions, rights and properties. Even at cost of national independence.
Following the end of the Dunkelds, Scotland fell in the Wars of Scottish Independence against England.
Kings of the House of Dunkeld
Donnchad I, r. 1034-1040
Máel Coluim III, ( Malcolm Ca'en Mohr ) r. 1058-1093, From who's son the Mackintosh of Mackintosh Chiefs claim descent.
Domnall III, r. 1093-1094 and 1094-1097
Donnchad II, r. 1094
Edgar of Scotland, r. 1097-1107
Alexander I of Scotland, r. 1107-1124
David I of Scotland, r. 1124-1153
Malcolm IV of Scotland, r. 1153-1165
William I of Scotland, William the Lion, r.1165-1214
Alexander II of Scotland, r.1214-1249
Alexander III of Scotland, r.1249-1286
Margaret, r.1286
On Alexander III's death his granddaughter Margaret (Maid of Norway) was recognised as "right heir", as had been agreed in Alexander's lifetime, but she was never inaugurated as Queen of Scots.
THE FAMILY OF MALCOLM AND MARGARET (inter 1070-1083). - It has been supposed that, if not the whole, at least the greater portion of the Royal children of Malcolm III, and Margaret were born in the Tower at
Dunfermline. There were, so far as is known, eight children, six sons and two daughters. The names of the sons,
in the order of their ages, were as follow:- Edward, Edgar, Edmond, Alexander, David, and Ethelrede;
the daughters were Matilda and Mary. Of their sons, Edgar, Alexander, and David ascended the throne. Edward was slain at Alnwick; Edmond, by his traitorous conduct, was denuded of his natural rights; and Ethelrede was a
churchman, Abbot of Dunkeld.The daughter, Matilda became the consort of Henry I. of England, and died about A.D. 1119; and Mary was married to Eustace, the Count of Boulogne.
Tradition notes that the original home of this family was "Malcom's Tower", a Medieval castle with was situated near Fofar, north of Dundee. The remains of Malcolm III, his wife margaret and most of their offspring are intured at the Cathedral of Dunfermline whose construction was started by Malcolm and was finished in the time of his son Alexander. His sons were also responsible for the building the Dunfermline Abby.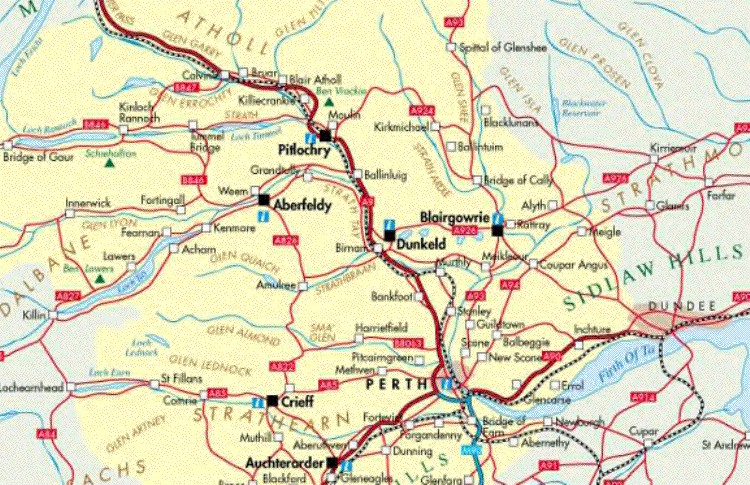 I am trying to confirm, by way of legal documents, the father of Patrick McIntosh who was born about 1734 and who married Janet Cunnison of Moulin Parish Perthshire Scotland abt. 1759 and had issue a son John McIntosh who was b. abt. 1764 and who later married Isabel or Isobell Cameron abt 1783.
The origins of this McIntosh family appear to begin in and around the parish's of Moulin, Pitlochry, Dunkeld and Kirkmichael Perth Scotland. This area is noted not only for its breath taking natural beauty and natural resources but also its historical connection to the first Kings of Scotland. Today it is quite the tourist destination with quaint hotels, unique shops and even a local brewery of some note. On the historical side area attractions that include the Black Spout Wood, home of a pretty little waterfall know as the "Black Spout", the Dunfallandy Pictish stone, Bronze Age hut circles on Moulin Moor and the Black Castle of Moulin.The Black Castle of Moulin, though now in ruins, can still be seen today. The Cathedral town of Dunkeld is full of historical buildings as well as its historic Cathedral and bell tower. Dunkeld, in its delightful riverside setting surrounded by wooded hills, is one of the gems of Scotland. Its historical significance is not reflected in its size, for this is a remarkably compact town. Nearly all of the modern expansion has taken place on the opposite side of the River Tay, at Little Dunkeld and Birnam . In 1991, the total joint population was only 1,461 inhabitants not including the throngs of tourist that venture to the area each year..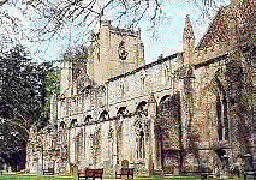 ( Dunkeld Cathedral )
In 570, a monastery was built at Dunkeld for St Columba, and, for hundreds of years, the town was effectively the headquarters of the Celtic Church in Scotland; after 1127, the Rome-based Catholic Church took its place, leading to the construction of Dunkeld's great cathedral, most of which still remains. Nearly the whole town was burned down in1689 in the aftermath of the Battle of Killiecrankie; the reconstruction shortly afterwards created much of the town we see today.
The surrounding area abounds with natural streams, brooks and lochs. The terrain is quite mixed with rolling meadows , small hills, low valleys and to the north the rocketing peaks of the Southern Grampian mountains.
A note on naming patterns in Scottish Families:
First son after the paternal grandfather
Second son after the maternal grandfather ( sometimes omitted )
Third son after the parent
First daughter after the maternal grandmother
Second daughter after the paternal grandmother
Third daughter after the mother.
Patrick Mackintosh of Dalmunzie married Margaret Robertson and had issue a son John b. 1661 at Dalmunzie Perth.
John Mackintosh b. 1661 at Dalmunzie, married Marjory Cameron, b. possibly at Kirkmichael, and had issue a son Patrick born 10 Dec 1740 at Kirkmichael and christined on 19 Dec 1740. Is this the Patrick who later married Janet Cunison?
The earliest and most likely founders of this family line found to date were:
Donald Mackintosh b. 1630 Dunkeld Perth, who married Margaret More, b. abt. 1633 in Blairgowrie Perthshire
and had issue a son John b. abt 1655 ( Donald is shown in the IGI as having been born 1629 and married on 26 Nov 1654 at Blairgowrie Perth. Margaret's surname is given as Moore. A son John is listed for them being born 14 Oct 1654 also at Blairgowrie Perth Scotland. )
John MacIntosh, b. abt. 1655 in Moulin, Dunkeld Par., Perth., Scot, married, abt. 1678, a spouse unknown
and had issue a son Donald b. abt 1680. ( the sons name may also have been Robert or Robert and Donald may be brothers or cousins. This John or Johne is listed in the IGI as having been born on 24 Sep 1654 Blairgowrie, Perth, Scotland, the date is also listed as 14 Oct 1654. The latter date is more then likely the christening date. )
Donald MacIntosh b. abt. 1680 in Kirkmichael Perth and later living in Little Dunkeld , married Jannet Rotson, or perhaps Robertson, b. Logierait Perth Scotland abt 1684-5 and by her had a son: John b. 1708.
( In records shown on another researchers web site I was able to find the following: In addition to John, the eldest son, there appears also a son Donald b. abt 1710, a son William b. abt 1712, a son Alexander b. 1723 and another son Donald b 1733. Being that there were two boys named Donald it is possible that the eldest Donald died young. Given the gap in birth years after Alexander there may also be other offspring that are not yet known.
The third son of Donald, William, married Grissel McLachlan and together they had nine children, listed as being Janet b. 1736, Margaret b 1739, Grissel b. 1735, Isobel b. 1742, John b. 1746, Donald b. 1749, twins Thomas & Christian b. 1751 and an unnamed child b. 1753. Of these the first son was named after his grandfather John and the second son named after his father which falls in line with the naming patterns in this family. Christian , the youngest daughter, appears to have married David McNab a descendant of a Robert McIntosh b. 1711 who was the son of Malcolm McIntosh b abt 1680-85. Was this Robert a brother of the Donald b. 1680 or perhaps his cousin? If this is so then it may explain why in later records these two men are shown as having the same wife owing to an error in the transcription.
or ( documents conflict as to the name of the husband of Jannet Rotson and father of John MacIntosh b. 1708, some show him to be Donald other documents show him as Robert though in both cases being married to a Jannet ( Jonet ) Rotson or Robertson. The name McIntosh is also ocassionally listed as either McIntosh, MacIntosh or Mackintosh )
Robert McIntosh or MacIntosh b. between 1678-1682, Moulin Parish Perth Scotland, who married Jannet Rotson, or perhaps Robertson, b. Logierait Perth Scotland abt 1684-5 and by her had a son: John b. 1708.
Robert may have had a second son, William who was born at Moulin on 12 Feb 1711-12. William's wife may have been Grissel McLauchlin. ( see notes on Donald McIntosh above ) ( though on the IGI no fathers name is given for this William )
( This Robert may also have been the son of Malcolm McIntosh who married Janet Malloch and by her had a daughter Margaret and a son James, in addition to Robert. Roberts wife is listed only as Agnes. From the marriage of Robert and Agnes there is listed one daughter Christian b 1730 at Logierait Perth, who married David McNab and had issue 6 children including Grace or Grizel b 1783, John b 1789, Christian b. 1789, Janet b 1792, Margaret b. 1796 and David McNab McIntosh b. 1798. )
( here again there appears to be a discrepancy in the records as there appears to be two John Macintosh's , both born in the same year and listing two different wives with both having a son Patrick . My assumption is that the correct John is the one born at Moulin on 16 May of 1708 though to date I have not been able to locate his actual birth records to verify this. )
John McIntosh b. 05 Aug 1708, Logierait, married Isobell Robertson, b. abt 1711 Logierait Perth Scotland and had issue a son Patrick b. 1734 and a daughter Janet Toseach b. 1736 at Blair Atholl Perth. ( this information was taken from a posting on Rootsweb. Johns father is listed as Donald McIntosh and his mother as Jannet Robertson )
John McIntosh b. 16 May 1708 at Moulin Parish ( and possibly christened at Kirkmichael ), married Margaret Ayson, b. abt 1710. The marriage of John and Margaret occurred about 1731 at Kirkmichael Perth Scotland. Together they had a son: Patrick McIntosh, b. 1734 ( Johns father is listed here as Robert McIntosh and his mother as Jannet Rotson )
( the first son for the marriage of John McIntosh and Margaret Ayson may be Robert McIntosh who was born 1732 at Moulin of whom later married a Margaret Fleeming ( or Fleming ) who was reportedly born 1736 at Moulin ( she could have been born as early as 16 Sept 1733 ) with the marriage taking place in 1757 at Moulin Parish. In other listings Robert is shown as being the son of James ( not John ) McIntosh and his wife is shown as Janet Rotson who was born at Blair Atholl, the birth of Robert here is recorded as 1 Oct 1736 with the christening occurring on Oct 5 at Blair Athol Perth. The Janet shown as Robert's wife would in most probability be a mistake and was more likely Robert's grandmother who married Robert the elder who was b. abt. 1682. )
( Another possible son might be William McIntosh who was born 23 Mar 1736 at Logierait Perth showing a father Robert McIntosh and mother listed only as Anne. Could the date here be mis transcribed and in fact this William was another son of the Robert b. 1682 Moulin? ( There is another William , son of John Mackintosh , b 30 May 1740 at Kirkmichael however no mother is given for this person )
( There is also listed an Alexander McIntosh who was born Moulin abt 1738. Could this be yet another son? Alexander's wife is listed as being Margaret McDonald b. 1742 at Moulin Parish Perth and they are shown to have at least one son, Donald, who was born 13 May 1770 at Moulin Parish. )
( unfortunately in the case of Robert and Alexander no father is given in the IGI so I cannot definitively say they are sons of John but owing to the time frame, location, and naming patterns in this family line it is a possibility ) ( the only Margaret Ayson that I can find that corresponds to the date and location above is the one who married a Johne Mackintosh about 1731 at Kirkmichael )
Ayson. The Aysons or Essons were settled in Tullymet. It is probably the same name as Esson, but in either form, it is now quite extinct in Atholl. The ancient Pictish name of Ayson is connected with the ancient Toschachs of Glentitl and being descended from Alyth Thome who held the charter to Fornochtis in Strathhern from Robert II. Most of the Aysons left Scotland and appeared to have immigrated to New Zealand which might explain why a son of a later Alexander McIntosh, Henry, moved there. It may be that this Henry, the son of Alexander McIntosh and Elizabeth Stewart, did just so.
It is beginning at this point that I have been able to document the genealogy of the ancestors of Charles & Gordon Mackintosh ( later McIntosh ) who immigrated to, or were born in , the United States, of whom I have styled the McIntosh's of Dunkeld, owing to fact that the Charles mentioned above was born or at least christened there. I now need to find if the information above is correct by way of further legal documentation.
Patrick or Patrich ( perhaps also Peter ) McIntosh ( IGI also lists McIntosh-Robertson as surname for Patrick ) b. abt 1734 at Moulin Parish Perth, M. Janet Cunison, b. abt 1738 in Kirkmichael, and by her had a son John who was born 6 May 1767 at Moulin Parish Perth. This banns of marriage were posted on 23 and 30 AUG 1759 Kirkmichael and Moulin, Perth, Scotland. This marriage is listed on Scotland's People as being recorded 03-08-1759
The children of Patrick McIntosh and Janet Cunison are reported as having been Girzel or Grizel b. 9 Oct 1760, Emlie or Emilia b. 19 Mar 1762, Janet b. 8 Apr 1764, John b. 6 May 1767, Patrick b. 9 Jan 1770, Mary b. 2 Apr 1772 all listed as being born at Moulin Parish Perth Scotland.
Cunnison. The older form of the name was McConish.The Cunnisons were proprietors for several hundred years of Edradour and Ardgie, the head of the house being Baron Cunnison of Edradour. The name and the family have alike disappeared from the Atholl region. Cunnison is a sept of Clan Robertson.
John or perhaps James McIntosh, b. 6 May 1767 Moulin Parish Perth, alias Mackintosh, married 2 Feb, 1784 at Redgorton Perth, Isobel ( Isbell or Isabel ) Cameron, b. 22 Aug 1765 and christened, Moulin Parish, 25 August 1765, possible daughter of James Camron ( or Cameron ) b. 5 Dec 1738 and c. 10 Dec 1738 at Perth Perth, and Elspeth Fergusson b. abt. 1738 at Moulin. James Cameron's parents appear to be John & Isabell Cameron. The marriage is also recorded as having taken place 2 Feb 1784 at Moulin Parish Perth in the IGI database. Isobell's parents may have also been Donald Cameron and Janet McDougall who were married abt. 1764 at Comrie Perth Scotland and had a daughter Isobel b. 12 Feb 1765.
From the marriage of John McIntosh & Isobel Cameron there appears to have been five children, Isobel ( Isabella ) b. 19 Nov 1784, Patrick b. 15 January or February 1786, Alexander b. 14 September 1788, Janet chr. 02 September 1792 and William b. 30 December 1795, c. 31 Dec 1795, all in Moulin Parish.
The eldest daughter of John & Isobel Cameron, Isobel or Isabella, b. 19 Nov 1784, is shown as living in Clunie Perth from 1841-1861 and having passed on 3 Jan 1867 at Scone Perth Scotland. Her husband was apparently Wm. McLagan and together they had 6 children, Isabella b. 13 April 1818, Charles b. 31 Dec 1819, John b. 7 Oct 1823, David b. 22 Nov 1826, Charlotte McLagan b. 16 May 1828, Donald McLagan b. 8 Feb 1831, all children being shown born or living in Clunie Perth. This line continues to this day and now includes the surnames of McLagan, Mason, McDonald, Miller, McBay, Guthrie, and Linford.
On the eldest son Patrick McIntosh b. 15 Jan 1786, I have not been able to find any further documented evidence or information. Though, in the IGI, there is a Patrick who marries Katherine Kennedy on 24 Nov 1822 at Logierait Perth Scotland. Could this be the correct Patrick ?
For the youngest children of John & Isobel, Janet b. 1792 and William, b. 1795 I have no information beyond their birth details.
The 2nd son , Alexander McIntosh bapt. Moulin Parish Perth 14 September 1788, married Elizabeth ( Ann? ) Stewart, b. 1800 Redgorton Perth Scotland, the daughter of John Stewart and Janet Ramsay. The marriage took place about the 9th Sep 1820, These individuals appear in the 1841,1851,1861 Scottish Census and the OPR records. ( I have a copy of the Banns of marriage registry in hand )
The most probable John Stewart, Elizabeth's father, may be the one who was born 25 May 1777 in Moulin, whose father is recorded as being also a John Stewart and the mother as Elspet or Elizabeth Stewart. Though this may be incorrect as there were three other John Stewarts who were in the same area about the same time frame. As to Janet Ramsay the most probable parents were James and Elizabeth Ramsay who, among seven children, had a daughter Janet Ramsay who was born as their third child on 15 Nov 1773 in Perth Perth Scotland.
The children of Alexander McIntosh and Elizabeth Stewart were Isobel b. 11 Dec 1820 and c. 27 Dec 1820, James b. 7 Aug 1822, c. 18 Aug 1822, John b. 24 May 1824, Peter b 23 Feb 1825, Henry b 18?? , Alexander b. 25 Mar 1833 at Auchtergaven, Gordon b. 01 Jun 1834, c. 15 Jun 1834 at Redgorton, Charles b.18 Feb 1837 ( Charles immigrated to the US in abt. 1870 ), Elizabeth b 23 Mar 1840, c. 5 April 1840 at Redgorton and Neil b. Oct 8 1842, c. 23 Oct 1842 at Redgorton.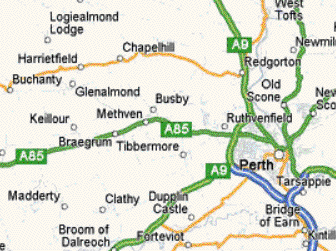 In the census records all births are listed as born at Redgorton except Alexander who was born Auchtergaven according to the Census records. ( copies of the above named census's and the Old Scottish Parish records are in hand showing the family ) Alexander died in 1865 at age 76 in Redgorton. Elizabeth Stewart, the mother, appears to have died 1888 in Aberfeldy which is South of Moulin and Pitlochry. The son Peter may have married Ann Robertson 23 May 1853 at Moulin.
Alexander's 4th son, Charles Mackintosh alias McIntosh, son of Alexander Mackintosh , sometimes McIntosh, was the father of Gordon ( Scotty ) McIntosh, who was born in Scotland in 1861 and who immigrated to Allen's Township, Scott County, Iowa presumably sometime around 1860-1870 ( shows up in the 1870 census, 6th ward of Davenport, Scott County Iowa ) along with what appears to be his kinsmen.
The other McIntosh's listed in the census information for Allen's Township include Duncan who was born in Moulin Parish in 1831 and may be the son of John McIntosh and Jean Stewart, and Frederick who was born abt 1846 and of whom I have no further information. Both living near or with Charles in Iowa.
In the IGI records there appears a John McIntosh who was born in Moulin on 30 July 1810 and may be the father of Duncan but without further information it is hard to say if this is the John that married Jean Stewart. There also appears another John McIntosh , born in Moulin, who was christened on 9 Dec 1804, and who was the son of a Donald McIntosh and a Margaret Fergusson.
It is also possible that neither Duncan nor Frederick are related to Charles but are simply men with the same surname who happen to live in the same area and time frame. The name Frederick does not appear in any of the other family records however it may have come from the mother side of the Stewart's. The name Donald does play a prominent role in the family in succeeding generations and may indicate a connection, again, I cannot prove it either way. In going through the IGI records we do find a Donald McIntosh who was born Moulin Parish Perth 13 May 1770 and who is listed as having a father Alexander McIntosh and mother Margaret MacDonald. Given this time frame it may make him the cousin or perhaps yet unknown brother to the John McIntosh who was born in Moulin in 1767.
Before immigrating, Charles , a blacksmith, married Mary Leslie, from Edinburgh, daughter of James Leslie, mason by trade, & Jane ? on November 23 1860 at Dunkeld. Among their offspring were Gordon McIntosh b 1861, my g.g.grandfather, his sister Jane McIntosh b. 1863, 2nd sister Elizabeth McIntosh b. 1864 and younger brother James Leslie McIntosh b. Jan 30 1868. James Leslie is last heard of as living with one of his sisters. James Leslie may have had a twin named Elmer of whom little is known beyond the census information. The witnesses to this marriage includes Gordon McIntosh , who appears to be Charles's brother, who was b. 1 June 1834 in Redgorton, and Ann Henderson.
Mary Leslie was born 1837 in Edinburgh Midlothian Scotland, her parents were James Leslie, b. 1809 , who died in 1876, and Jane Raeside. From this marriage they had further issue, James b. 1841, William b. 1844 and John b. 1846 , Margaret b. 1847, and Christian b. 1851 all born in Scotland, in the area of Dunkeld. Elizabeth appears to have been born in Edinburgh. Jane Raesides parents appear to be John Raeside and Mary Henderson. ( This information was taken from the 1851 Redgorton Perth Scotland census. )
Gordon ( Scotty ) McIntosh next appears living with his parents, Charles & Mary in Allen's Township, Scott County, Iowa, and later in Rock Island, Rock Island County, IL having immigrated from Scotland about 1871 at the age of 10 years old. It is quite possible that the father, Charles, had immigrated a few years earlier though I have been unable to locate his immigration documents.
Gordon was again recorded as being in the service of the home of one John Carter in Allen's Township, Scott County Iowa in the 1880 census and being listed as 19 years of age. I have a bible dated 1881 with the name Charles McIntosh ( the father of Gordon ) on it and my fathers father Donald Scott's marriage listed in it in 1916.
The names Donald, Gordon and Scott play quite prominently in latter generations. All these names are also common among the Mackintosh's of Inverness dating as far back as the 6th chief and also those of the Shaw's, alias MacRichie, alias Mackintosh of Dalmunzie and Rothiemurchus. Family tradition has always been that we were closely related to the Mackintosh's of Inverness perhaps by way of the Dalmunzie branch and descended from or related to Angus Og MacKintosh or Alexander Ciar Mackintosh.
Continuing on with the research we find:
It appears that Gordon met Sara May Levy, the daughter of Joseph Levy and Mary Ann Catherine Ristine, who were living in Lisbon, Linn County Iowa, her father being born in Prussia or Russia, and mother born in PA, while living in Allen's Township. They were married abt 1889/90 and one child, Mavis, the eldest daughter, my great aunt, was born there in July of 1890.The subsequent children are all listed as being born in IL.
Sara's siblings are listed as Joseph, William, Frank, and Bessie. They were listed as living in Linn County Iowa in the 1860 census with the father shown as being born in Westphalia Prussia and the mother being of Russian extraction born in Pennsylvania. It appears that Joseph only spoke Hebrew and both parents were Jewish. Sara's mother is listed as being a peddler of domestic goats. From what I later found out about the Levy's is that Joseph started in Onondaga NY having immigrated from Russia or Prussia, subsequently moved to Pennsylvania where he must have met Mary Ristien and together they later settled in Iowa where it appears that Gordon met Sara. Sara's brother Joseph did not appear in the 1870 census so I assume he either had passed away or possibly had moved elsewhere. Joseph was two years younger then Sara.
Next we find Gordon and Sarah May Levy, living in Rock Island Illinois, in the 1900 census of Illinois having at that time 4 living children and being married abt. 10 years. Why or how they moved to Illinois is unknown though with Scott County Iowa being just across the Mississippi River from Rock Island Illinois it is easy to imagine this move. Gordon was shown as being 39 at the time and was listed as the father of Mavis b 1892, Charles L.( perhaps Leslie ) b. 1893, Donald Scott b. 1897, and Elizabeth b 1901.
Then in the 1910 Illinois census ( Gordon is now 49 years old and has a wife Sarah May Levy and they were living on Aberdeen Street in Chicago) we find the same Gordon and Sarah now with 6 living children from a total of 8, of whom is mentioned my Great Aunt Alice, b. abt 1904, who was the youngest daughter, and Meryl McIntosh, the youngest son b. in 1902. Gordon is shown to be a teamster at a packing house in Chicago.
The 1st son Charles L. ( presumed Leslie ) McIntosh is documented in the Chicago Tribune newspaper as having passed on November 3,1939 with his father being Gordon who was living in Chicago and his mother Sara being previously deceased. Sarah May Levy appears in the death index for Cook County IL as have passed on April 19, 1928. He was cremated at Oak Woods in Chicago. It further shows his surviving siblings to be Mavis, Elizabeth, Alice, Donald and Meryl.
Great Aunt Mavis ended up married to a Mr. Schrumpf, Elizabeth, the second daughter married a Mr. Otto Lenoch and Alice, the youngest daughter married a Mr. Dunne all presumably of Illinois or perhaps Indiana. At this point I do not have further information on these individuals and given their ages I would assume that all are long since past. I would love to be able to track down their descendants unfortunately I have no clues as to where to look for them beyond the Chicago area.
Of Meryl, I have not been able to find further information. Nor do I know the names of the other two children who appeared to have died young. Gordon ( Scotty ) McIntosh's death is recorded in the Chicago Tribune newspaper as having occurred on or about July 10,1940 his wife having predeceased him sometime between 1902 and July 1940. He was interred at Mount Hope Cemetery.
Gordon is next listed in the 1920 Chicago Census age 58 and as being a teamster in the Lumber field and working for Gilette Lumber. Their son Charles L. is listed at age 21 being unemployed, Elizabeth aged 20 works at a mail order office, Meryle is 17, and Alice is now 11.
The 2nd son, Donald Scott McIntosh, my grandfather at age 21, also appears in the WWI draft records of 1918 as living on Halstead St, in Chicago, with the nearest relative, his mother Sarah, living at 49th Rd Chicago IL. Who he was living with and why is unknown, perhaps by that age he was on his own and perhaps courting his future wife Ruth. If my memory proves right I believe It was the above mentioned Halstead Street address that I visited as a child when my grandmother Ruth G. McIntosh passed away in 1967, her husband, Donald Scott. McIntosh, son of Gordon Mackintosh, grandson of Charles Mackintosh of Dunkeld, having passed in 1964.
Donald Scott McIntosh again is shown, in the 1920 Chicago Census, as being in a home of his own at the age of 23 and listed as a manager for a lumber company. He is listed as being married to Ruth Lees Kelly , aged 27 who was born in Missouri. In the household are listed Donald Gordon age 1, their first son and my father, Jessie Kerran , a stepdaughter age 8, born at 532 W 43rd Street in Chicago Illinois on 12 May 1911, Bernard Kerran a stepson age 4, who appears to have been born about 1916, Andrew Kelly age 16, a brother in law, John Kelly age 21, a brother in law, William Kelly age 25, a brother in law, and Mary McCoy ( MacCoy ) who was 65 and listed as mother in law and who appears to have immigrated from Scotland in 1875. For the Kelly boys the census records show their father being born in Ireland and the Mother being born in New York. Their father , Patrick Kelly, appears to have been a baker. The mother, Ruth Lees Kelly McIntosh passed in the mid 1960's in Chicago, her husband Donald Scott having passed a few years earlier.
The son Donald Gordon McIntosh is my father, who was born May 30, 1918. The marriage of Donald Scott and Ruth Lees McIntosh is recorded in the family bible of Charles, the grandfather, of Donald Gordon, as having occurred in 1916. Together they had one other child that I know of, Robert Thomas McIntosh, who lived in Chicago and married Antoinette Cosolino ( sp?) and who inturn by her had one son Robert Alan and twin girls Toni & Terry ( Theresa ). The only recollection I have of them is seeing them at my grandmothers funeral in about 1967. The death of Donald Scott McIntosh is recorded in the Chicago Tribune newspaper as having occurred on June 20,1964 and stating that his wife Sara had passed previously.
My mother often spoke of the fact that there had occurred an earlier marriage of one of my grandparents to which there were additional offspring including a man who I knew of as Uncle Bernie ( Bernard ) but I was unsure if it was Donald Scott McIntosh or Ruth Lees Kelly who had been previously married. Though, in later years, I did receive information by way of death notices from the Chicago Tribune newspaper , dated June 20,1964 noting Bernard to be the step son of Donald Scott McIntosh, recently deceased, and also listing a further relative, Jessie who appears to be Bernard's brother but was in fact Bernard's sister Jessie. Jessie later married a Mr. Coughlin. Bernard's full name is shown as Bernard W. Keiran ( other documents have it Kerran ) and his Sister as being Jessie M. Coughlin. Jesse was the eldest child and was born in Chicago on May 12, 1911 with her father being shown as Patrick Kieran and mother as Ruth Kelly. ( This information came from a Cook County birth certificate that I have a copy of. ) I vaguely remember hearings about a Jessie when I was a child but do not know if I ever met her. I also vaguely remember my mother speaking of an Aunt Jessie who was trying to track down the family line but I never got in contact with her.
I don't remember my grandparents much at all but always was curious who they were and asked my parents many times about them. From what I learned, many years later, from my eldest brother Gordon, there occurred, before I was born, a rift between my father and his father. This occurred do to a task my grandfather wanted taken care of by my father. My father having a moral objection to the deed rebuked his father and I believe this is why my parents moved to Watervaliet Michigan shortly after the birth of my oldest sister Sandra in 1946. It was there that my youngest sister and I were born. There was a gap of ten years between my two sisters and I found out later that my mother had had three other children during this time that either died in child birth or shortly there after.
From the stories I was told by my mother, Donald Gordon McIntosh saw Ruth Irene Bailey-Goff , daughter of Everett Goff and Hazel Bailey, walking down the street and approached her. They must have fallen madly in love because they were married a few weeks later. They were married on April 18, 1940 and honeymooned in or near Bowling Green KY,.. They lived in Illinois for a time and then settled in Michigan and had 5 surviving children, of whom I am the youngest. The eldest son Gordon Donald Everett George McIntosh was born July of 1940, his brother Ronald Scott Thomas McIntosh was born in November 1942, from there the oldest daughter Sandra was born in June of 1946, all in Illinois.
My father had enlisted during WWII but was released after 18 days due to a medical condition concerning his feet or ankles. He then worked for the railroads. There, at one time, existed a picture of my father pushing a hand truck with boxes on it preparing to load them into a rail car but that picture unfortunately was lost. He like his grandfather was about 5'4' tall , was trim, had wavy dark hair and startling blue eyes. He must have been an accomplished musician at some time as he was know to have been a backup drummer for some of the Big Bands of 1940's Chicago. He and my mother also frequented a club called Tinini's of which, she told me some quite scandalous stories about concerning a certain female entertainer who worked there. Chicago at this period, shortly after WWII, must have been a happening town and my parents appear to have had a happy life there. At least until the time of the fued between my father and his father. Sometime after 1946 my parents moved near my mothers father in Watervaliet, Berrien County, Michigan. They settled on a farm on Carmidy Road in Berrien County Michigan and in 1956 gave birth to my youngest sister. I was born in the worst snow storm of the region in February of 1958.
My parents subsequently moved, sometime after I was born, to be closer to my mothers mother, who had since divorced Everett Goff and had married Frederick Kinyon. It was during this period that my parents had separated for awhile owing, in part, to conflicts between my father and his mother in law, Hazle. For a short time my mother along with us five kids lived in a second floor walk up apartment above the Lion's Bar. I don't know the exact dates or remember much about this period however my parents were soon back together and we moved, as a family, into a house on Agard Steet. From there we moved to a big rambling Victorian house located on Pearl Street. Some of my best and worst remembrances took place at that address. It was while living in this house that President Kennedy was assassinated, my fathers parents both died, my mothers father moved in and was later killed in a car accident and the gap widened between my older siblings and I. The older two boys having joined the armed services and my eldest sister, Sandra, having gotten married to James Lee Remington in 1966.
Ruth I. McIntosh's father was Everett Goff, son of John and Martha Goff , of Michigan and brother to Eber. Everett's father was John Goff who married Martha Edilstein. Ruth's mother was Hazle Bailey. ( to date I have not been able to ascertain her parents ) Everett and Hazle had two children, Ruth the eldest and Ellen who married Thomas Matts and was killed in the Oil City explosion in 1940's Texas. Everett and Hazle died in the 1960s in Michigan. Everett and his brother were in a horrible car accident on which Everett was killed instantly and Eber died a year of so later from severe head trauma. Hazle Goff married secondly, Frederick Kinyon and had no further issue, though she did have a ward named Paul Douglas.
While living on Pearl Street, in Benton Harbor, Michigan my father worked for the Whirlpool corporation, from which he retired in the about 1968. His next job was as a security officer and later a private investigator. It was during this period that he, along with his friend Jack then took up the hobby of making home made wine. This wine had a latter reputation of making woman quite fertile and from all accounts was quite intoxicating. My mother, who was in her 40's, was a sign printer for Goldblatt's department store and was taking nursing courses at Mercy Hospital.
My sister Sandra soon moved with her husband , James Lee Remington to California, later divorced and returned to Michigan for a short while before moving to Millington Tennessee, where Gordon, the eldest son was stationed at the Memphis Naval Air Station. Sandra had three boys of her own of whom two are still living and now reside in Florida.
After my grandfather Everett's horrible car accident, in which he was killed instantly and his brother Eber was made a human vegetable, and owing to my mothers depression over her fathers tragic death, we moved from the Pearl Street home back to the country farm on Zoschke Rd. It was during this era that race riots were becoming common and the civil rights movement was gaining momentum. Owing to the conflicts in the area my parents decided it was time to move elsewhere. With my older brothers and eldest sister on their own and only my youngest sister and I living at home my parents decided to send the two of us to live with , Sandra, who as mentioned earlier had moved to be near Gordon, the eldest son, in Tennessee. My parents thus planning to move soon afterward.
In the early 1970's my parents retired to Memphis Tennessee where Donald passed in 1997. Ruth moved to Florida and passed in 2002 and I settled in Kentucky.
The eldest sons of Donald G. McIntosh and Ruth Irene Bailey-Goff were, Donald Gordon Everett George McIntosh, born IL. 1942, who served in the US Navy for 20+ years and died in Catawba North Carolina in 1996, and Ronald Scott Thomas McIntosh, born November 1944 in Illinois and who settled in or near Texhoma Oklahoma and passed in 2006. Gordon had one surviving adopted daughter and Ronald had 5 children. Of the remaining siblings I have two sisters who at present are still alive and they inturn have further descendants.
I , with my partner of nearly 12 years now reside in Christian County Kentucky, we operate a specialty import business in the city of Hopkinsville, Christian County Kentucky. Hopkinsville or more properly Christain County is the home of another branch of the Mackintosh/McIntosh family ( those of Todd & Christain County KY ) who are related to the lines of William Mackintosh of the Creek nation and also the descendants of John Mohr Mackintosh of Borlum Scotland.
Hopkinsville is located on the Trail of Tears where history tells us that the Creek Mackintosh's, the kinsmen and relatives of Chief Wm. McIntosh, were forced to move to Indian territory and on which journey many perished during the migration from Darien Georgia to the Arkansas Territory and Oklahoma.
For more information on what appears to be another McIntosh family living in Iowa see the
McIntosh KY, IN & IA
page
For yet another line of McIntosh in TN see the
McIntosh TN
page