Chief Wm. McIntosh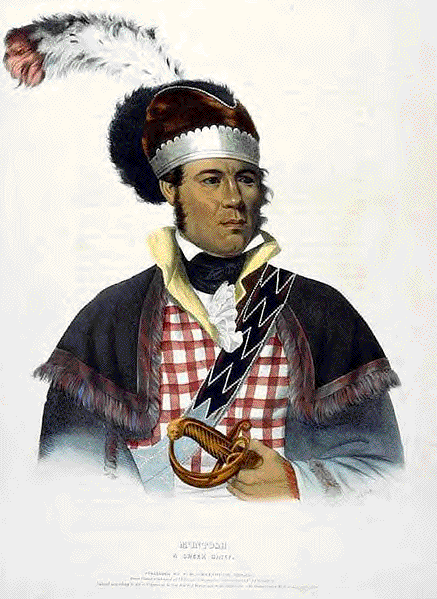 William McIntosh (1775 – April 30, 1825), also known as White Warrior, was the son of Captain William McIntosh, a member of a prominent Savannah, Georgia family sent into the Creek Nation to recruit them to fight for the British during the Revolutionary War (Captain McIntosh's mother was a sister of Lachlan McGillivray of the Clan MacGillivray Chiefs Lineage). His mother, a Creek named Senoya (also spelled Senoia), was a member of the prominent Wind Clan of the Coweta-Cussitta Towns of the Lower Creeks. Raised as an Indian, he never knew his Tory father. Because among the Creeks, descent was determined through one's mother; the fact that his father was white was of little importance. To put this more clearly, in the Muskogean mind McIntosh's father was not the one who begot him, but was in fact the eldest brother of his mother. McIntosh was a cousin of William Weatherford and Georgia Governor George M. Troup.
McIntosh was raised by his mother's brothers, who taught him the life skills necessary to survive in the
wilderness on his own.
McIntosh also spent much time with his father and stepmother in the Savannah area. It was here that he learned to read, write and speak English. He learned his business skills from his father as well. Feeling comfortable with both his mother's people and his father's people helped McIntosh to gain the confidence necessary to become a leader.
His mother was of the Wind Clan, the clan from which leaders are usually chosen. McIntosh became a Micco (king) of the Lower Creek villages. That is, he was elected orator, or chief spokesman for these loosely aligned villages.
White's Historical Collections of Georgia, an early Georgia history, described McIntosh as intelligent and brave. In person he was tall, finely formed, and of graceful and commanding manners. His first cousin was George Troup, who served as Governor of Georgia.
During the War of 1812, a civil war between the Upper and Lower Creeks broke out, and McIntosh was selected to head a kind of national police force established by Benjamin Hawkins, an Indian agent, to deal with the nativistic Creek Red Sticks. He gained the enmity of (Alabama's) the Upper Creek Indians by leading General Andrew Jackson's Indian troops during the Creek Indian War of 1813 - 1814, during which the Upper Creeks were defeated. For his services at the Battle of Horseshoe Bend and elsewhere, he was commissioned a Brigadier General in the United States Army.
After the Creek Indian War, McIntosh built a plantation on the Chattahoochee River in Carroll County called Lockchau Talofau (Acorn Bluff) that was worked by 72 slaves. (It is near Whitesburg and is today maintained as a park by Carroll County.)
An astute businessman, McIntosh amassed considerable wealth. His plantation in Carroll County was the home of 40 slaves, many head of cattle, and sheep, as well as much land under cultivation. McIntosh was married three times: to Susanna Coe (a Creek woman), Peggy (a Cherokee), and Eliza. Each lived in her own home on a nearby plantation.
In an 1817 letter written to President Madison and signed by McIntosh, Madison was told that, while the more influential Cherokees of mixed blood wanted to swap their land, the "not so much civilized" pure bloods feared the mixed-bloods would—as they did—swap all their land, leaving them "without any land to walk on." The Creeks feared that these Cherokees might—as they already had—take land from the Creeks.
McIntosh also fought for the United States in the First Seminole War. He gained fame during this war by playing a major role in the capture of the so-called Negro Fort located on the lower Apalachicola. (Georgia slaves escaped and took refuge with the Seminoles in Spanish-held Florida.) The fort was occupied by about 300 black men, women, and children, 20 renegade Choctaws, and a few Seminole warriors. Its defenders were led by a black named Garcon. The downfall of the fort was brought about by an American cannon ball heated red hot setting off a tremendous explosion when it landed in the fort's magazine.
By 1823 when the first of the treaties for land in Georgia was being signed, McIntosh was aware that the Americans were going to acquire more and more land. Having fought along side them, McIntosh felt strongly that the Creeks should sell their land and take the money and land promised in the West.
Despite the fact the Upper Creeks (including McIntosh) had vowed to kill anyone who signed away any more Indian land, McIntosh, along with eight other chiefs, on February 12, 1825 signed the 2nd. Treaty of Indian Springs; thus relinquishing all the Creeks' land in Georgia.Under this treaty the Creeks in Georgia, with the exception of the Tukabatchee, would be relocated west of the Mississippi River to an equivalent parcel of land along the Arkansas River. In compensation for the move to unimproved land, for the inconvenience of the move and to obtain supplies, the Creek nation would receive $400,000 paid in decreasing installments over a period of years. This second treaty was nullified the following year by the Treaty of Washington (1826).
According to the fifth article of the treaty it stipulated, "That the treaty commissioners pay the first $200,000 directly to the McIntosh party."
This second treaty started a Tale of Lost Treasure, as treasure hunters have spent time looking for the $400,000.00 in gold coins that it was believed Chief McIntosh took from the Treaty signing location, as stated in "Georgia's Fabulous Treasure Tales", by Ernest M. Andrews.
Whether he signed the treaty for personal gain or because he believed signing it was in the best interests of the Creek Nation is still argued.
He wrote to his cousin, Governor Troup asking for support, but the promised troops never arrived. While the treaty was being signed on the bar, leaders of the Upper Creek villages stood outside the hotel and swore revenge on McIntosh.
Despite Governor Troup's promise to protect him, just before daybreak on April 30th about 200 Creeks lead by Menawa, one of the few Red Stick leaders who had survived the Creek War, set fire to McIntosh's plantation and executed him. Shot in the front doorway of his home, McIntosh managed to climb the stairs to the second floor, from which he began shooting at his assailants. Forced to leave when they set fire to the house, he was shot and dragged some distance from the house. Raising himself on an elbow, he gave them a defiant look as he was stabbed in the heart by the point of a long knife. McIntosh was shot an estimated 50 times, scalped and his body thrown in the river. If his enemies had waited much longer, McIntosh wouldn't have been there, as he was planning to leave that morning to look over land promised him along the Arkansas River.
His 3rd wife Susannah ROE threw herself over his body and protected it for three days until troops arrived and buried McIntosh on the spot.
After his death, his 2nd wife Peggy complained in the Cherokee Advocate that, "I do not blame the Creeks, the Creeks treat me well, the Cherokees treat me well--it was by Government my husband lost his life--Government say to my husband 'Go Arkansas, go to Arkansas, and you will be better off.' My husband wished to please the Government--my house is burned, myself and my children run--my children naked--no bread--one blanket, is all--like some stray dog, I suffer; with one blanket I cover my three children and myself--the Government say 'Go!' The Indians kill him; between two fires my husband dies; I wander--Government does not feed me--Creek does not feed me--no home, no bread, nothing! nothing! Till Gen. Ware gives me a home, I suffer like some stray Indian dog."
McIntosh's home served as an inn and tavern on the Federal Road where it crossed the Chattahoochee, and because the River was then above its banks, some travelers had decided to spend the night there, hoping the waters would recede. Thus, there were several witness to the terrible events that took place there besides McIntosh's family.
Ancestors and decendants of of Chief William Mackintosh/McIntosh
Mother: Margaret MacGillivrary
Name: "Capt" William McIntosh, son of John Mohr Mackintosh
Surname: McIntosh
Given Name: "Capt" William
Sex: M
Birth: in Scotland
Marriage 1 Senoya HENNEHA b: in Russell County, Alabama
Married: in Coweta, Georgia
Children
"Chief" William "Tustunugee Hutkee" (White Warrior) MCINTOSH b: ABT 1775 in Indian Springs, Georgia
Matilda MCINTOSH b: ABT 1777
Marriage 2 a Creek woman
Children
Roley MCINTOSH b: ABT 1790 in Coweta, Georgia
Name: "Chief" William "Tustunugee Hutkee" (White Warrior) MCINTOSH
Surname: Mcintosh
Given Name: "Chief" William "Tustunugee Hutkee" (White Warrior)
Sex: M
Birth: ABT 1775 in Indian Springs, Georgia
Death: 30 Apr 1825
Father: "Capt" William MCINTOSH b: in Scotland
Mother: Senoya HENNEHA b: in Russell County, Alabama
Marriage 1 Eliza GRIERSON
Children
Jane MCINTOSH b: ABT 1801 in Georgia
Chillicothe "Chilly" MCINTOSH b: ABT 1804 in Coweta, Georgia
Catherine "Kate" "Ahkokee" MCINTOSH b: ABT 1809
Lewis MCINTOSH b: betf 1813 - 1816
Sarah "Sallie" MCINTOSH b: 23 Dec 1824 in "Chief" William McIntosh's plantation in Alabama
Marriage 2 Peggy
Children
Croesy MCINTOSH b: ABT 1810 in Georgia
Wisey "Visey" MCINTOSH
Marriage 3 Susannah ROE
Children:
Rebecca MCINTOSH b: ABT 15 Mar 1815 in Lower Creek Nation, Georgia, married Benjamin Hawkins and Spire Hagerty
Delilah MCINTOSH b: 15 Oct 1818 in Lower Creek Nation, Georgia, married William Drew (1/4 Cherokee) and had five children
Catherine Hettie MCINTOSH b: 28 Mar 1820 in Columbus, Georgia,married James D. Willison, Sr.
Daniel Newman "Hun" MCINTOSH b: 20 Sep 1822 in Indian Springs, Georgia
After Chief William McIntosh was murdered, Susannah McIntosh married his half-brother Roley McIntosh ( - 1863) but they had no children. Roley became the first Chief of the Creek Nation in the West. Roley did adopt a Creek boy named Roley who later became a Creek Chief. Roley (Delilah's uncle) and his nephew Chilly McIntosh brought the Creeks to Indian Territory in 1828. Chilly adopted Artuami Ccache (Sachpa) (Armstrong) McIntosh (1819 - 1844).
The connection of Chief William to the Clan MacGillivray is as follows...
The bloodlines of Clan MacGillivary Chiefs has not died out as was earlier believed. at least through the female lines, as Lachlan MacGillivrary's sister Margaret married John Mohr Mackintosh. Their son was Capt William McIntosh and his natural son (Margarets Grandson) was Chief William McIntosh of the Creek Nation. (His first cousin once removed was Chief Alexander MacGillivrary of the Creek Nation). See also the
Clan MacGillivray
page of this site.